Catastrophic Injury Lawyers in Bryan & College Station
Call to Have Your Case Reviewed by an Attorney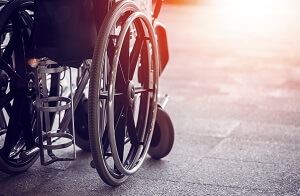 Car, truck, motorcycle, and other types of motor vehicle accidents may result in catastrophic injuries. These injuries can vary and result in short-term disability, long-term disability, or a lifetime of specialized care. The Bryan and College Station catastrophic injury attorneys at Rodriguez & Gimbert put over 45 years of combined experience to work on every case.
---
If you have suffered a life-changing injury, call (979) 559-3599 or contact us online for a free case review. We serve all of Brazos County.
---
What are Catastrophic Injuries?
The medical community, insurance companies, and business entities use the term "catastrophic" to describe certain types of injuries. In order to recover compensation, the injury must meet the requirements to be classified as catastrophic. These are injuries that require extensive rehabilitation and ongoing care.
Catastrophic injuries can be defined as life-changing injuries that result in permanent physical, mental, and emotional damage. These types of injuries occur due to extreme accidents and can be devastating for victims and their families. Some common examples of catastrophic injuries include brain damage, spinal cord damage, amputations, severe burns, paralysis and organ failure.
Catastrophic injuries often cause a range of different symptoms depending on the severity of the injury and affected parts of the body. Common physical symptoms may include:

Chronic pain
Loss of mobility or sensation (paralysis)
Difficulty breathing or speaking
Impaired vision or hearing loss
Mental and emotional symptoms may include feelings of profound sadness or hopelessness, depression or anxiety.
Victims may also experience post-traumatic stress disorder from witnessing traumatic events during the accident or as an aftermath effect.
In many cases, victims who suffer from catastrophic injuries require long-term medical care because the effects are often permanent. This includes:
Occupational therapy to help with activities such as walking, writing, eating and bathing;
Speech therapy to improve communication;
Psychological counseling to cope with emotions;
Physical therapy to manage pain levels;
Specialized medical treatments such as prosthetics or transplants
In addition to medical expenses incurred from treatments, victims may also struggle financially due to lost wages if they're unable to continue working after sustaining an injury - not only do these individuals require more intensive care but they're usually unable to work at all which greatly impacts their income level.
Catastrophic injuries can have lifelong implications for victims so it is important for them to understand their options in regard to legal representation in order to ensure they receive adequate compensation for damages incurred by the accident (which could include financial compensation for lost wages). It is also important that victims focus on recovery rather than worry about finances by having a dedicated team advocating on behalf of their rights so that they can focus on healing both physically and emotionally after such a life-altering event takes place in their lives.
Types of Catastrophic Injuries
Some examples of catastrophic injuries include:
Brain injury
Spinal cord injury
Crush injuries
Amputations
Insurance companies often deny claims or seek to reduce the value of claims to ensure their profitability. Insurance companies and their teams of attorneys may try to deny the claim or insist that the person's injuries do not fit the definition of a catastrophic injury. Our personal injury lawyers have extensive experience negotiating with insurance companies and fighting on behalf of our clients.
Don't Settle without an Attorney
Most people never fully recover from catastrophic injuries, which means that your medical bills, other costs, and inability to earn an income may continue far into the future. When settling these cases, it is important to take this into account to ensure that you are being appropriately compensated for your injury. Our catastrophic injury lawyers in Bryan and College Station fight to ensure that your current and future needs are met.
---
Please contact our firm online or at (979) 559-3599 to learn about the compensation that may be available in your situation.
---
Why Trust Rodriguez & Gimbert?
Serving Clients in Bryan and College Station for Nearly Two Decades

Over 45 Years of Combined Experience

Honest & Straight Forward Counsel

Strong and Long Standing Reputation in the Legal Community

Results Driven Legal Advocacy

Texas A&M Alumni
We Are Here to Help You in Difficult Times
We look forward to speaking with you. Call us today at 979-559-3599