Bryan & College Station DWI Attorneys
45+ Years of Combined Criminal Defense Experience
Facing a driving while intoxicated (DWI) charge is stressful – a conviction can affect every aspect of your life. You should contact an attorney immediately to ensure your rights are protected throughout the entire process.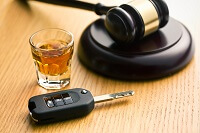 At Rodriguez & Gimbert, our Bryan and College Station DWI lawyers have handled numerous cases for our clients and offer the representation you need to reach a favorable outcome in your case. Our firm serves all of Brazos County.
---
We are always available to assist you. Please call our office at (979) 559-3599 or contact us online to speak with a DWI attorney serving Bryan & College Station.
---
Criminal & Administrative Penalties
Texas law defines DWI as operating a motor vehicle with a blood alcohol content (BAC) of .08% or higher or while intoxicated by drugs or alcohol. The penalties for conviction depend on the situation, blood alcohol content (BAC), and whether there are any prior convictions.
For example, if an accident or injury was caused or the defendant has several prior convictions, the charges and penalties will be more severe.
The criminal penalties for first-time DWI may include:
72 hours - 6 months in jail, 1 year for BAC of .15% or higher
Fines of $2,000 - $4,000
Probation
Community service
Mandatory participation in a DWI education program
In addition to criminal penalties, there are administrative penalties that affect your driver's license. If you fail or refuse a chemical test, the arresting officer will confiscate your driver's license and issue a Notice of Suspension. You have 15 days to request a hearing or your license will remain suspended for 90 days.
When you request the hearing, you may continue to drive until a decision is made in the hearing. Our Bryan and College Station DWI lawyers can explain your options, including your eligibility for an occupational license.
Can I Get a DWI Charge Expunged?
If you are a first-time DWI offender whose breath &/or blood test came in below 0.15% and your DWI did not involve another person or result in a car accident, you may be eligible for DWI expungement in Texas. If you are looking to eliminate a DWI charge, contact our firm for your free consultation.
Call Rodriguez & Gimbert, P.L.L.C. for Knowledgeable, Aggressive Legal Representation
If you or a loved one has received a DWI, proper representation requires an attorney experienced with the state laws and local courts. Our law firm was established in 2001, and our DWI attorneys in Bryan and College Station have strong relationships with judges and prosecutors in local courts. We have represented numerous clients charged with DWI and other alcohol-related offenses.
---
Contact Rodriguez & Gimbert, P.L.L.C. online today or call (979) 559-3599 to discuss your case with our Bryan & College Station DWI lawyers.
---
Why Trust Rodriquez & Gimbert?
Serving Clients in Bryan and College Station for Nearly Two Decades

Over 45 Years of Combined Experience

Honest & Straight Forward Counsel

Strong and Long Standing Reputation in the Legal Community

Results Driven Legal Advocacy

Texas A&M Alumni
We Are Here to Help You in Difficult Times
We look forward to speaking with you. Call us today at 979-559-3599