Bryan & College Station Felony & Misdemeanor Lawyers
Representing Clients in Central Texas Courts
If you have been accused of committing a misdemeanor or a felony, you need a defense attorney who understands the local procedures who has many years of experience handling criminal cases.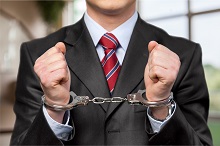 The Bryan and College Station felony and misdemeanor defense attorneys at Rodriguez & Gimbert can provide you with the representation you need for a favorable resolution to your case.
---
When you are arrested, contact us at (979) 559-3599 to get the advice you need from a qualified defense lawyer. We serve all of Brazos County.
---
What is the Difference Between Felonies and Misdemeanors?
Texas categorizes criminal charges as either felonies or misdemeanors. Generally, misdemeanors are less serious charges and carry lighter penalties than felony charges.
However, any criminal record can cause problems in the future with employment, educational opportunities, and obtaining professional licenses. Whenever possible, it is best to avoid any criminal record.
Types of Felonies & Misdemeanors
Our attorneys have represented clients in many cases, including:
Assault
Possession of marijuana
Appeals
Other felony and misdemeanor charges
What are the Penalties for Felonies & Misdemeanors?
Depending on the specific charges, you may be facing serious penalties, such as significant jail time, fines, probation, community service, or loss of your driver's license.
Our attorneys can defend your rights and advise you of the best path forward. We work with you to build an effective defense strategy and achieve a favorable outcome, such as a reduction of charges, a dismissal, or a not-guilty verdict.
Call an Attorney before Speaking with Authorities
It is important to remember that the police and state attorneys are not working in your best interests. When you are accused of a crime, it is important to have an experienced defense attorney working to protect your rights and best interests.
Our felonies and misdemeanors lawyers in Bryan and College Station can advise you on the steps to take both after your arrest and before you are formally charged.
---
We encourage you to contact us online or at (979) 559-3599 to speak with a criminal defense attorney about your case.
---
Why Trust Rodriguez & Gimbert?
Serving Clients in Bryan and College Station for Nearly Two Decades

Over 45 Years of Combined Experience

Honest & Straight Forward Counsel

Strong and Long Standing Reputation in the Legal Community

Results Driven Legal Advocacy

Texas A&M Alumni
We Are Here to Help You in Difficult Times
We look forward to speaking with you. Call us today at 979-559-3599